Mango Pineapple Smoothie. Mango smoothies built on farm-frozen, organic fruits and vegetables. Get back to good habits with Daily Harvest's no-prep, no-mess mango smoothies. I invented this one day when I had leftover mango and pineapple juice.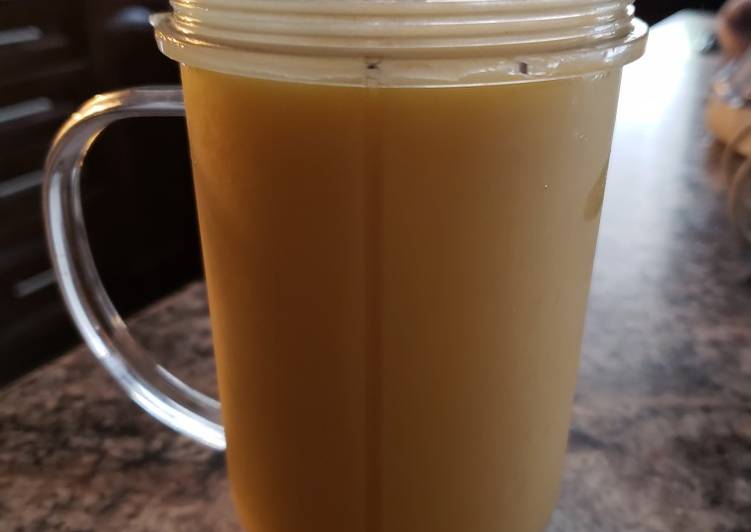 Mango-Pineapple Smoothie Martha makes a refreshing fruit smoothie with mangos and pineapples. This Mango Pineapple Smoothie is a wallet-friendly, delicious, and, flavorful way to enjoy a healthy tropical smoothie at home. Keep reading for the full recipe and details on how to make this smoothie today. You can cook Mango Pineapple Smoothie using 5 ingredients and 2 steps. Here is how you achieve it.
Ingredients of Mango Pineapple Smoothie
You need 1 cup of Mango pieces (frozen).
You need 1/4 cup of Pineapple pieces (frozen).
Prepare 1/3 cup of Pineapple juice.
It's 1/4 cup of Plain Yogurt.
Prepare of Water to thin if needed.
Peel and cut the pineapple into chunks. Combine the pineapple and mango in a blender. Add the whole milk, yogurt, and ice cubes. Pineapple is one of my favorite fruits to include in a smoothie and this one uses pineapple along with some mango – both of which are just frozen.
Mango Pineapple Smoothie step by step
Add the mango, pineapple, juice, and yogurt to blender. Blend until smooth..
If needed, add water if to thin or add ice to thicken..
This makes it easy to make at any time. If you have fresh fruit, by all means use it but you will just need to add some ice to add thickness. Mango Pineapple Banana Smoothie I use one whole fresh mango, a frozen banana and a spear or so of pineapple with a little water. Blend it all together and you've made yourself a refreshing smoothie. If you're like me, you always have frozen bananas on hand for smoothies or raw ice creams like this Almond Chunky Monkey Ice Cream.