Mexican Horchata (rice drink). Among the aguas frescas served throughout Latin America, horchata (or-CHAH-tah) tops the list of favorites in Mexico. The refreshing chilled beverage combines water and/or milk with fruit, seeds, nuts, or grains (such as sesame or cantaloupe seeds, almonds, walnuts, or white rice and cinnamon). Place the rice in a bowl with enough water to cover it and let it soak overnight.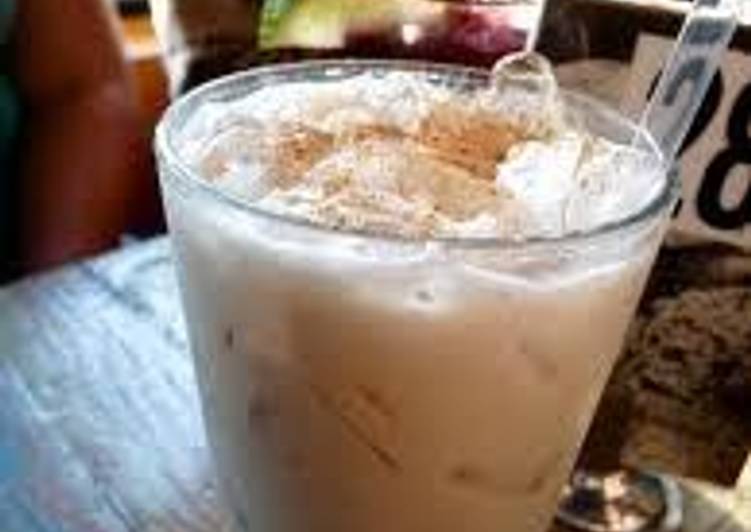 In the end it still tasted like pureed rice pudding and not like Horchata. Horchata is known as a popular Mexican drink that is described as a sweet rice milk beverage. Horchata is made up of simple ingredients. You can cook Mexican Horchata (rice drink) using 7 ingredients and 7 steps. Here is how you achieve it.
Ingredients of Mexican Horchata (rice drink)
You need 1 cup of Rice.
Prepare 1 cup of sugar.
Prepare 1 1/2 tbsp of vanilla extract.
You need 1 can of evaporated milk.
It's 5 cup of water.
It's 1 bunch of ice.
It's 1 dash of cinnamon.
The blended combination of rice, milk, vanilla and cinnamon are commonly served in most Mexican recipes. Balancing out the creamy rice mix and cinnamon sweetness flavors makes this horchata tasty and delicious. Horchata is a Mexican rice drink that is made from soaking the rice in milk overnight. Nothing makes a party like a tasty drink recipe!
Mexican Horchata (rice drink) step by step
Let the cup of rice soak in water..
In separate jug, combine evaporated milk, sugar, cinnamon, water, and ice!.
Empty water from cup of rice..
In your blender, add rice and a clean cup of water..
Blend well until rice dissolves completely..
Once blended, mix the blended rice with the mixed ingredients..
Stir and serve over ice..
Some of our other favorites are Brazilian Lemonade, Homemade Hawaiian Punch, and Virgin Piña Coladas. Horchata Mexican Drink Horchata is a delicious Mexican rice drink. Refreshing, sweet, slightly creamy with just a hint of cinnamon. If you love Mexican food, being able to make such an authentic tasting Horchata at home is super exciting! Is it worth it to make homemade?