Apple juice and wine pork roast. Apple juice and wine pork roast mikey. Cider Pork Roast Apple cider, dried cherries and fresh rosemary put the pizzazz in this pleasing pork roast. It's even more flavorful when drizzled with the sweet pan juices. —Terry Danner of Rochelle, Illinois Place an aluminum pan filled with apple juice or apple cider directly under the cooking grate where the pork roast will be.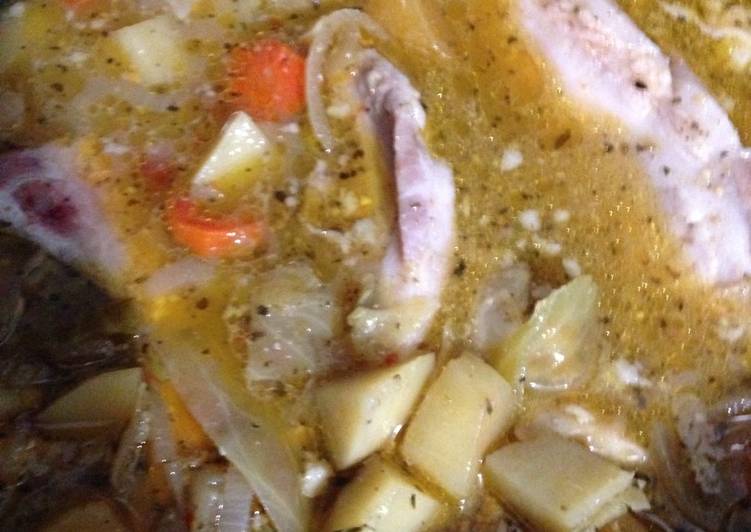 Stir in the sliced apples, then push the mixture to the sides and set the pork loin in the middle of the skillet along with any collected juices on the plate. Transfer the skillet to the oven and. Salt and pepper pork roast, then sear on all sides to give it some color. You can have Apple juice and wine pork roast using 9 ingredients and 2 steps. Here is how you cook it.
Ingredients of Apple juice and wine pork roast
Prepare 2 cups of white wine.
It's 3 cups of apple juice.
You need 2 of apples sliced.
Prepare 2 of table spoons of vegetable spice.
It's 2 of table spoons of roasted sweet pepper a garlic spice.
Prepare of Potatoes, carrots, turnip and cabbage.
It's 1 of chopped onion.
You need 3 lb of pork roast.
It's Dash of salt and pepper.
Add apple juice, apple slices, onions, and bay leaf. Place pork and all ingredients except mushrooms, butter, brown sugar and cider- cornstarch mix into large casserole with cover. In a small saucepan, combine the broth, apple juice and jam. Cook and stir over medium heat until jam is melted; pour over roast.
Apple juice and wine pork roast step by step
Mix everything together in a slow cooker throw in pork roast and cook for 8 hours, when finished strain some of the juice for the best gravy ever.
.
Place the roast in a roasting pan or large casserole dish. Sprinkle soy sauce over the top of the roast. Make several small slits in the roast and stuff pieces of garlic into them. In goes a huge hunk of raw meat, with shreds of sauerkraut, sliced onions, wedges of green apple and cider syrup. Two and a half hours later, out comes the most tender delicious roast of pork with an abundance of golden sweet and sour gravy, calling out for mashed potatoes to soak it all up.