MIXED BAG Smoothie!. Ready-to-blend smoothies built on farm-frozen, organic fruits and vegetables. Get back to good habits with Daily Harvest's no-prep, no-mess smoothies. Great recipe for MIXED BAG Smoothie!.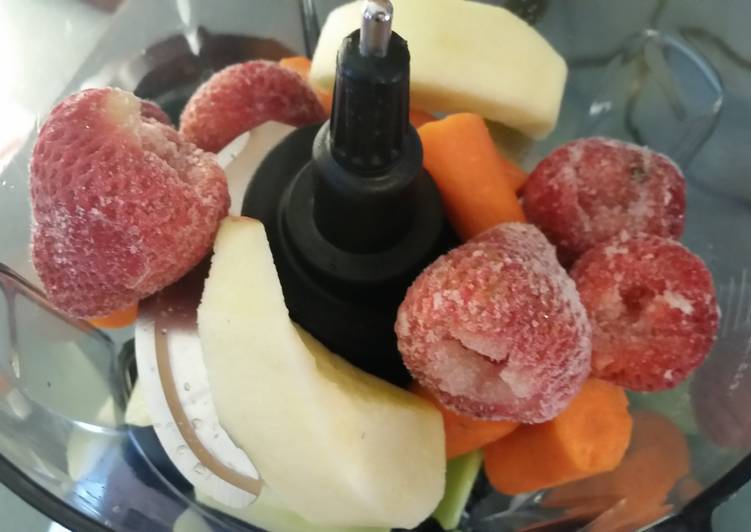 All of my smoothies are pleasing. . . at least to my tastes. In labeled ziplock bags, combine the ingredients for each smoothie except the liquid. This mixed berry smoothie is simply frozen berries, banana, vanilla Greek yogurt, liquid of your choice, and sweetener if you desire. You can cook MIXED BAG Smoothie! using 5 ingredients and 1 steps. Here is how you cook it.
Ingredients of MIXED BAG Smoothie!
You need 2 small of Carrots peeled.
Prepare 1 of celery stalk cut in fourths.
You need 1 of cucumber peeled and cut in half.
You need 1/2 of apple cored and peeled.
Prepare 5 large of Fresh frozen strawberries.
I buy bags of mixed frozen berries and always have a few in the freezer for when a smoothie craving strikes. I typically make these smoothies with apple juice as it eliminates the need to add any sweetener later on. Afterschool snack time is a breeze when I have a few different flavors ready to go in the freezer. How to Make-Ahead Smoothie Prep Packs.
MIXED BAG Smoothie! instructions
Place all fruits and vegetable ingredients in high powered blender or processor and blend until smooth..
You CAN make a smoothie prep pack by just dumping your ingredients into a bag and calling. For each individual smoothie flavor place all components except for almond/ coconut milk in plastic bag and flatten and press any air out of the bag. You can use a straw to suck the air out, just be careful not to do this if you're using any cacao powder. When it comes time to make your smoothie, you can easily take one smoothie freezer pack out of your freezer. Blend all the ingredients, in addition to your liquid base, until smooth.