Choco-Banana Smoothie. Get back to good habits with Daily Harvest's no-prep, no-mess banana smoothies. With farm-frozen, organic produce and powerful superfoods in every cup. In a blender, combine banana, chocolate syrup, milk and crushed ice.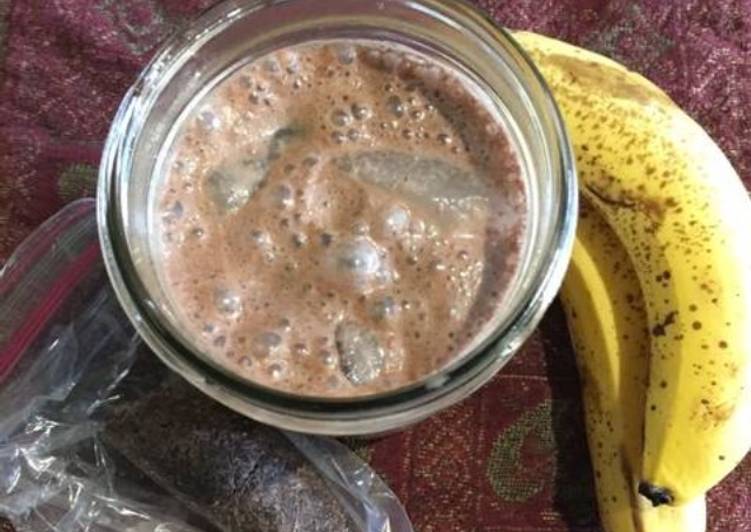 AND it's made from whole fruit, milk, and other nourishing ingredients. Buzz up this smoothie today and share it with your kiddos. First up is this delicious Choco-Banana Breakfast Smoothie. You can cook Choco-Banana Smoothie using 4 ingredients and 2 steps. Here is how you achieve that.
Ingredients of Choco-Banana Smoothie
You need 2 tbsp of raw cacao.
You need 1 of Banana.
It's 16 of onz Almond-coconut milk.
Prepare of Crushed Ice.
It's packed full of energy with the oats and banana giving kids a natural energy boost. It's also low GI too, giving sustained release throughout the morning. Milk is of course an excellent source of protein and the *cocoa provides natural antioxidants and nutrients. Pour milk in a blender jar and add banana.
Choco-Banana Smoothie step by step
Pour the milk into a blender. Add the peeled banana..
Grind the cocoa and blend until all mixed and smooth. Serve crushed ice..
Add cocoa powder, sugar and a ice cube. Blend until smooth and no chunks of banana. Pour prepared chocolate and banana smoothie into a serving glass, garnish with chocolate shavings and serve. Combine fruit, yogurt, powder, and ice in a blender until smooth. Add coconut oil, chia seeds, and vanilla extract.