Mango Smoothie. Mango smoothies built on farm-frozen, organic fruits and vegetables. Get back to good habits with Daily Harvest's no-prep, no-mess mango smoothies. A life-transformation system that guarantees to help you lose weight & feel better.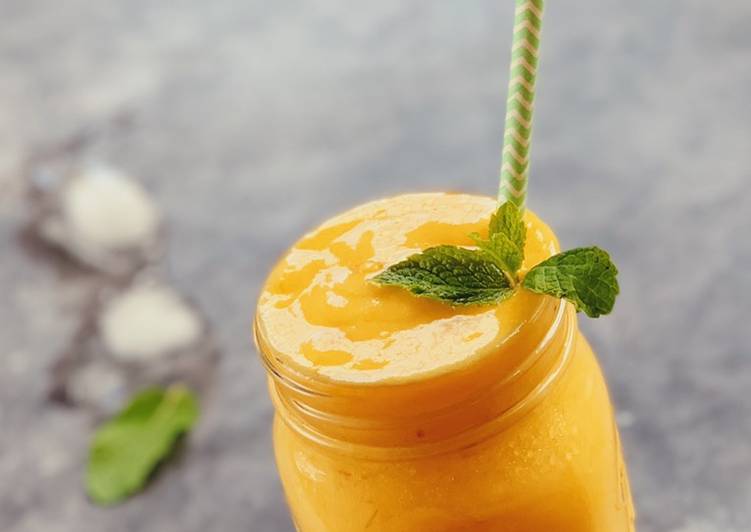 It's a welcome pick-me-up in the morning, but also refreshing to sip alongside spicy foods or as an after-dinner dessert alternative. If you like mangos, you must try this luscious and creamy smoothie. It is both light and filling. You can have Mango Smoothie using 4 ingredients and 3 steps. Here is how you achieve it.
Ingredients of Mango Smoothie
It's 100 gr of mango, diced, frozen.
It's 100 ml of whole milk/almond milk.
Prepare 50 ml of yogurt.
Prepare of sugar or honey to taste (if needed).
You can use fresh or frozen mango chunks. There's no better way to get some calcium and fruit in for the day! Since they intensify the flavor of other tropical fruits, try coconut, papaya or pineapple. In my opinion, melons, berries, peaches and bananas are also a good choice.
Mango Smoothie instructions
In a blender, combine frozen mango, milk, yogurt, and sugar/honey (if needed)..
Whirl until mixture is smooth..
Serve cold. Yum! 😋.
As for the liquid, apple juice, orange juice, pineapple juice or mango nectar are all good options. This ultra creamy mango smoothie is the best summertime smoothie recipe. It's made with fresh mango and a handful of ingredients (dairy or dairy-free) for the ultimate thirst quencher. And when it's mango season I always grab several fresh mangoes at the market to whip up a variety of recipes. Well, this mango smoothie tastes like the most glorious double-thick, creamy, smooth mango custard you've ever imagined.