Salmon with Orange juice. Place salmon pieces in the baking dish in a single layer. Make deep cuts in the salmon pieces, dab some butter into the cuts and also dab a few bits of butter on the rest of the salmon. Pour orange juice all over the fish.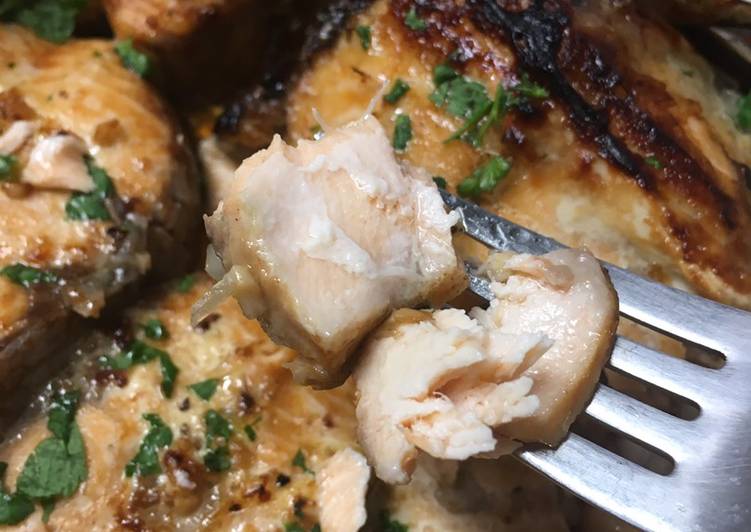 Then, take half the orange and squeeze over the salmon to cover with juice. Coat generously with brown sugar and sprinkle with salt and pepper. Place salmon in large zip top bag and pour marinade in with salmon. You can have Salmon with Orange juice using 8 ingredients and 4 steps. Here is how you cook that.
Ingredients of Salmon with Orange juice
You need of whole Salmon or chopped.
You need 2 tbs of olive oil.
You need 1/4 cup of brown sugar.
You need 1/4 cup of soy sauce and teriyaki sauce mix.
It's 1 tea spoon of minced garlic.
You need 1 tsp of fresh ginger.
You need 1 of whole orange.
It's of Salt and pepper.
When ready to cook, preheat grill or grill pan over medium heat. Mix orange juice, honey, soy sauce, lemon juice, and ginger together in a small bowl. Push the onion and orange slices to the outer edge of the baking dish, and place the salmon fillets in the center. Season with the remaining half of the herb mixture.
Salmon with Orange juice instructions
Preheat oven 165F, line a baking sheet with aluminum foil. Put salmon in it. Sprinkle salt and pepper. To make sauce in a bowl mix sugar, olive oil, garlic teriyaki and soy sauce mixture, orange juice, salt and paper..
Pour over salmon all over. Cover salmon another piece of aluminum foil. Seal it up..
Bake around 35-40 mints. Or more until they are cooked. Turn the oven off, baste the salmon with the sauce in the baking sheet. Then the take the top foil off broil 5-6 mints. Until beautiful brown. Chop some parsley over it..
.
Whisk together the orange juice, lemon juice and honey in a small bowl. In a large resealable plastic bag, combine the first seven ingredients. In a large bowl, combine the first eight ingredients. Pour remaining marinade into a bowl. Meanwhile, mix navel orange juice, cara cara orange juice, lemon juice, soy sauce, garlic, honey, red pepper flakes, cornstarch and water in a sauce pan and cook over medium heat until it simmers and thickens.