Homemade Coffee-Cream Ice-cream. Take the freezer bowl out of the freezer and place on the Cuisinart stand. Place the mixing arm inside the bowl and then cover with the easy lock lid. Once the lid is secured, turn on the ice cream maker.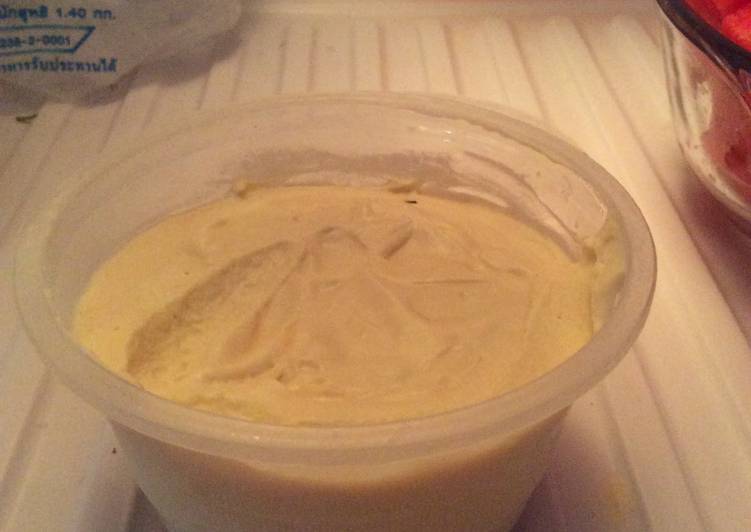 Add the milk, vanilla and coffee. Heat milk, coffee beans, and some of the cream. Cover and remove from heat once the mixture is steaming considerably, just before it starts to boil. You can cook Homemade Coffee-Cream Ice-cream using 5 ingredients and 6 steps. Here is how you cook it.
Ingredients of Homemade Coffee-Cream Ice-cream
You need 1 cup of Whipping cream.
It's 1/3 cup of Sweet condensed milk.
Prepare 1 tbsp of Coffee powder.
It's 1 tsp of Water.
You need 1 dash of Brown food coloring.
If using brewed coffee instead of whole beans, do not include it at this stage. The brew: Many coffee ice creams call for steeping grounds in hot cream and milk, then tempering the hot liquid into egg yolks and sugar. It's a lot of trouble and easily makes a mess, and there's no need to do it. Coffee infuses its flavor quickly into dairy, and in my testing, that flavor doesn't improve with longer steeping.
Homemade Coffee-Cream Ice-cream instructions
Whip the cream until soft peaks.
Add condensed milk and mix.
Mix coffee powder and water together and pour into the cream..
Add a dash of brown color and mix well.
Pour them into the container and freeze.
Enjoy!.
In a large saucepan, combine the sugar, cornstarch, coffee and butter until blended. In a medium pot add the strong coffee (espresso is what I used), milk, cream and sugar, heat on low / medium stirring gently with a wooden spoon until very hot and the sugar has dissolved. Pour into a clean bowl and let cool completely before adding the vodka. Label the container with the expiration date of the milk used. While opting for cream will make for the thickest creamer, with a more velvety taste, it will also be higher in fat and calories than any of the milk options.