Coffee Jelly. Dissolve gelatin in the hot water in a small bowl. Pour gelatin mixture, coffee, and sugar in a saucepan and bring to a boil over high heat. Pour coffee mixture into glasses for individual servings or a large pan for cubing.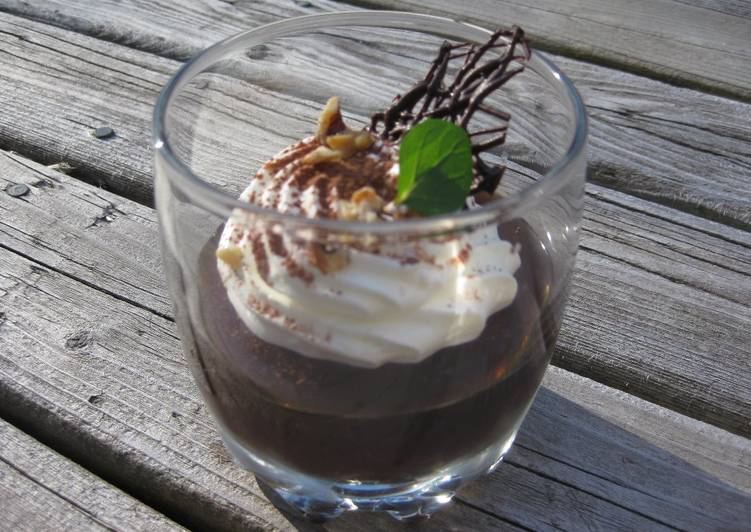 Coffee jelly (コーヒーゼリー, kōhī zerī) is a jelly dessert flavored with coffee and sugar. Although once common in British and American cookbooks, it is now most common in Japan, where it can be found in most restaurants and convenience stores. Coffee jelly can be made using instant mix or from scratch. You can have Coffee Jelly using 7 ingredients and 6 steps. Here is how you cook that.
Ingredients of Coffee Jelly
It's 600 g of Strong Hot Coffee.
You need 45 g of Sugar.
Prepare 15 g of Gelatin Powder.
Prepare 45 g of Cold Water.
It's of Quantities for Exterior:.
It's of Whipped Cream.
It's of Walnuts.
It is served in restaurants and cafés. Coffee Jelly is a cold jellied dessert made throughout Japan from black coffee and gelatin. As Coffee Jelly is not too sweet, although you can adjust the sweetness however you like, and rather light, it is a perfect after dinner dessert. Dissolve one pack of gelatin into the coffee on the side and give a tiny whisk.
Coffee Jelly step by step
Pour the cold water into the gelatin powder and stir well. Store in the fridge until ready to use..
Brew the hot coffee. You can make it quite thick to get more coffee flavour..
Add the sugar to the hot coffee and stir..
Microwave the gelatin mixture to melt. Pour the melted gelatin into the hot coffee solution and stir well..
Pour the coffee solution into the glasses and keep in the fridge until solid..
Decorate as you like. Nuts make a good accent!.
Coffee jelly is such a quick and easy treat to make, it's all a matter of dissolving the gelatin in very hot strong coffee, allowing it to cool and firm up, and drizzling the set gelatin with sweetened cream. Seriously, the hardest part of this recipe is the wait! Coffee Jelly: I was playing around with ideas for coffee and thought, what about jelly? So this is a pretty simple version. I think it would be nice as a layer between cakes, or simple cookies.