Raw Organic Super Green Smoothie. Large choice of pharmacy products from leading brands. Discover a large Choice of Pharmaceutical items at a Low Price with cocooncenter.co.uk ! See recipes for Super-green smoothie – vegan too..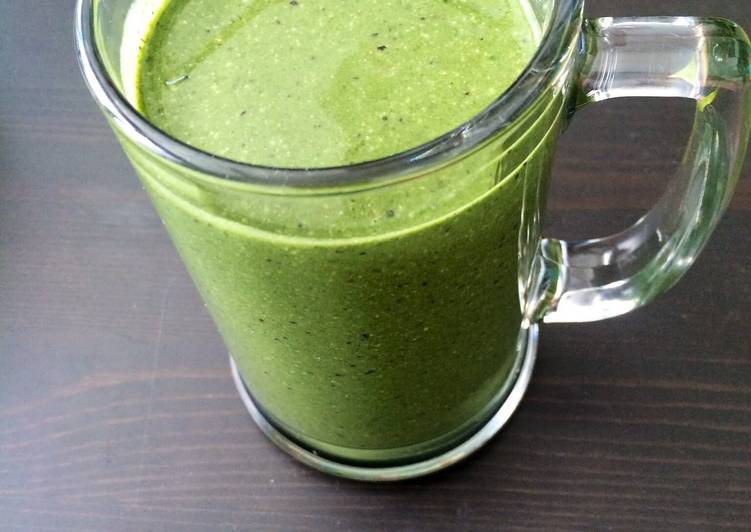 We just added a awesome smoothie to our menu, kind of inspired by the movie documentary Fat, Sick and Nearly Dead. It features all Raw Organic Vegetables and Alkaline water from our neighbor OB Water and Ice. The Organic Juice smoothie consists of the following: Organic Kale; Organic Spinach ; Organic Carrots; Organic Romaine; Organic Granny Apple; Organic Parsley. You can have Raw Organic Super Green Smoothie using 11 ingredients and 1 steps. Here is how you cook it.
Ingredients of Raw Organic Super Green Smoothie
It's 5 each of Ice cubes.
It's 2 each of Organic kale leaves.
You need 1 cup of Organic blueberries.
You need 1 each of Organic banana.
You need 1 tbsp of Organic raw coconut sugar.
You need 1 tbsp of Organic raw honey.
It's 1 tbsp of (Greens organics) superfood raw.
You need 1 tbsp of Raw organic maca powder.
You need 1 cup of Organic almond milk.
Prepare 1 cup of Raw organic cashews.
Prepare 1 tsp of Organic vanilla extract.
Smoothies are a great way to hydrate our bodies, being fulfilling and satiating at the same time. Sometimes we have a green smoothie in the morning, for breakfast. Me and Vasco acquired this habit, when we started eating mostly raw foods. Since then, and considering that we've changed other routines as well, we feel an exceptional lightness and easy digestion.
Raw Organic Super Green Smoothie instructions
Add everything into a blender and blend until smooth. Enjoy!!.
Recently named Vegan Powder of the Year by Vegan Health and Fitness Magazine! Organic Super Greens is a daily raw vegan drink mix packed with a healthy, antioxidant-rich organic vegetable blend. It's rich in EFA's, Amino Acids, Phytonutrients and Fiber. A blend that is naturally low in glycemic index and is suitable for diabetics.† Containing smoothie bowls, chia seeds, almond butter, coconut milk, frozen banana, maple syrup, cacao powder, protein, drinks, fruit and ice cubes. It depends on what ingredients you add to them.