Yogurt cake with chocolate icing & decorations (optional). Unique Handmade Iced Biscuits, Cakes & Chocolates to Reward or Celebrate! The recipe can be turned into a coconut cake by replacing the cocoa with dessicated coconut. Make the frosting and frost the cake Bring the cream to a simmer in a small saucepan over medium heat.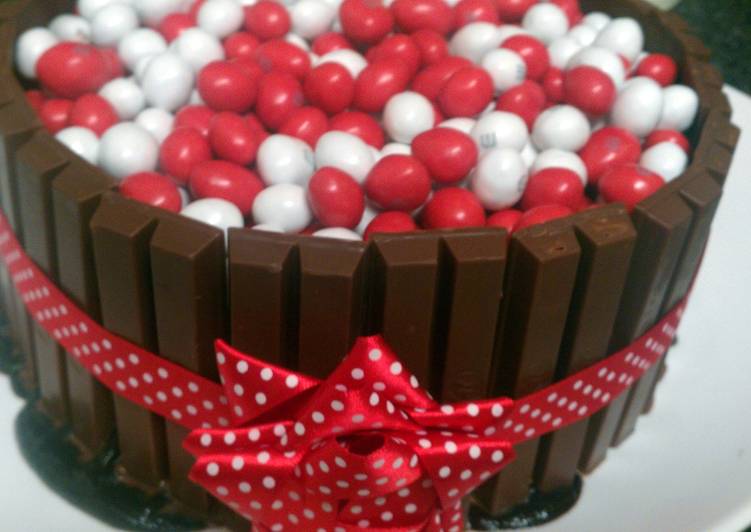 Remove from the heat and stir in the icing sugar and golden syrup. Put the first cake onto a serving plate and slice a little off the top (if necessary) to make it an even base for the top layer. Sift or whisk together dry ingredients (flour, sugar, cocoa powder, baking powder, baking soda, and salt). You can cook Yogurt cake with chocolate icing & decorations (optional) using 13 ingredients and 7 steps. Here is how you achieve that.
Ingredients of Yogurt cake with chocolate icing & decorations (optional)
Prepare of Cake.
It's 2 cup of flour.
You need 1 cup of sugar.
It's 1 cup of natural yoghurt.
Prepare 1 cup of vegetable oil.
You need 3 each of eggs.
It's 2 tsp of baking powder.
You need of Decoration.
Prepare 24 each of KitKats.
Prepare 300 grams of M&Ms.
It's of Icing.
Prepare 200 grams of plain chocolate.
You need 50 ml of double cream.
Whisk in egg, milk, vegetable oil, and vanilla extract, until just combined. Use a whole milk greek yogurt for Chocolate Yogurt Cake. There is less oil and no butter in this cake so you want the extra fat to make your cake super moist. This cake is made without a stand mixer or hand beaters, so be sure to use a whisk so it creates enough air to make your cake fluffy.
Yogurt cake with chocolate icing & decorations (optional) instructions
Mix flour, sugar, oil, eggs, yogurt & baking powder.
Place in the oven & bake for an hour at 180°F.
Let the cake cool down once baked.
Melt chocolate & add double cream to create icing.
Let icing cool down a little bit.
Cover cake with icing.
decorate with KitKats & M&Ms (or equivalents).
Ingredients The ingredients for this decadent chocolate cake are broken down into the chocolate yogurt cake mix and the chocolate glaze. For the cake batter, you will need flour, cocoa, baking powder, baking soda, salt, vanilla yogurt, water, vanilla extract, butter, sugar and eggs. They are soft, with a deep chocolatey-y taste. The frosting is a combo between chocolate buttercream and yogurt. Continue adding until you reach the consistency you'd like (the more yogurt the tangier the taste also the thinner the icing so keep an eye on your consistency) Allow cake to cool completely.